Hey everyone! I have done a few dinner recipes so far but I wanted to give you guys a good easy breakfast to try out as well! During the week I like to try and cut out the processed foods as much as possible but weekends are for splurging right? Hope you all give this recipe a try and enjoy it as much as I do!
Ingredients/ shopping list:
1 block tofu, extra firm ( I am using Trader Joe's organic super firm)
1 pack " Gimmie Lean Sausage by Light Life"
1 pack "Follow Your Heart American Slices"
Bread of your choosing
Spinach (optional)
Olive oil 1/3 cup
Garlic powder 2 tsp
Onion powder 1 tsp
Turmeric 1 tsp
Salt and pepper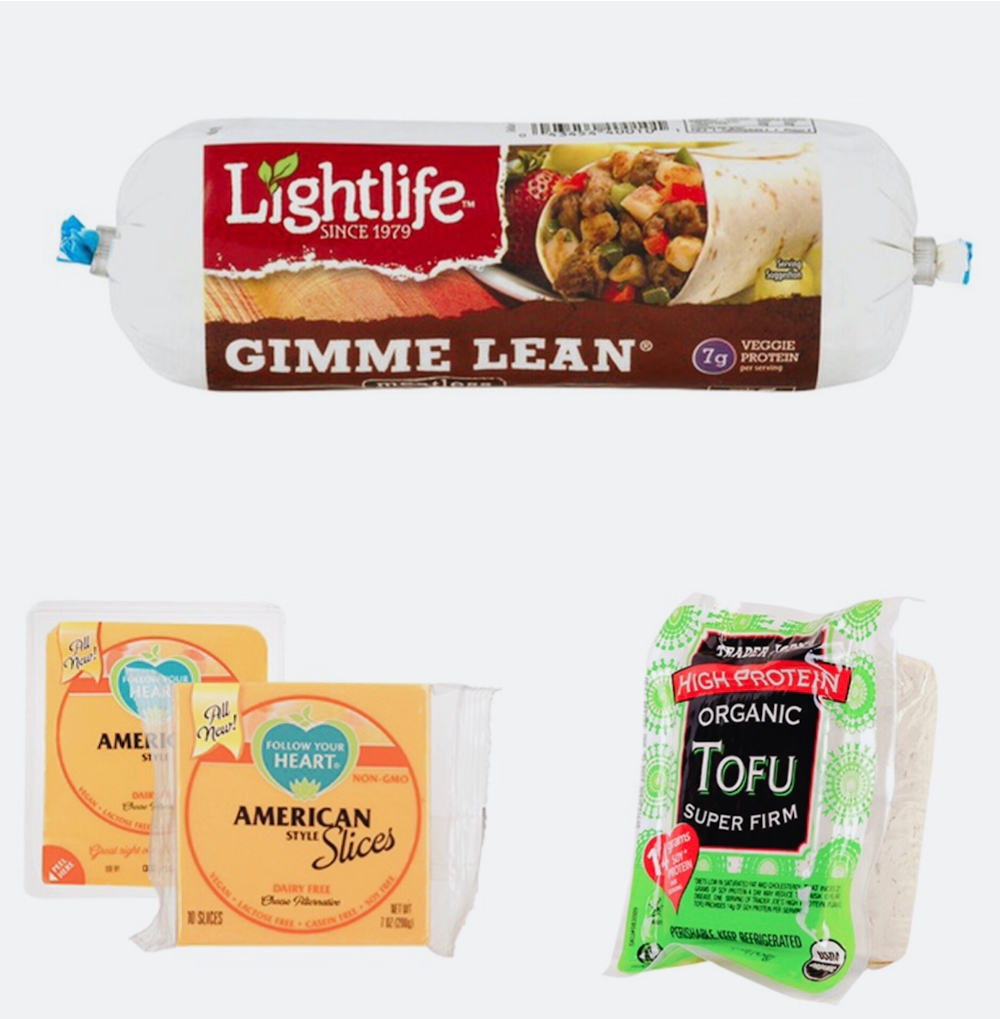 Cooking Instructions:
I like to make these one step at a time and there is really only three steps which makes this recipe so easy! First I cook the vegan sausage, then the tofu egg, then I put the sandwich together.
Step 1.
Open up your "gimmie lean" veggie sausage and rip off a enough pieces for however many sandwiches you are making. Roll these pieces into balls then flatten into patties. Heat up your skillet with a little a little olive oil and fry up the sausage patties! These only take a few minutes on each side.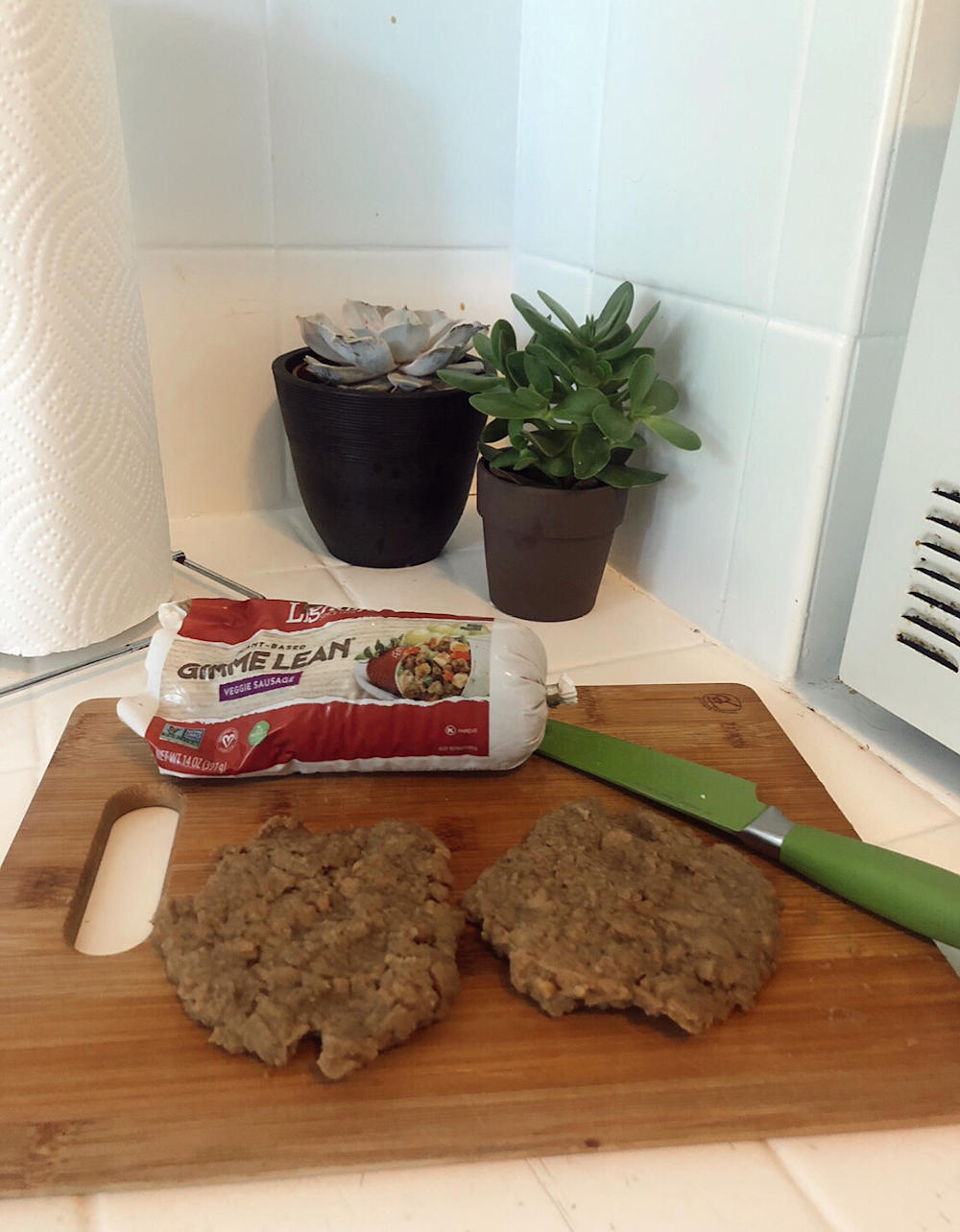 Step 2.
Next you are going to mix your olive oil, garlic powder, onion powder, turmeric, salt, and pepper into a medium sized bowl. Whisk with a fork until mixture is even. There is two ways to cook the tofu depending on your preference, slices or scramble! For the slices: cut your tofu into thin slices as pictured below. dip each side into the oil mixture, then fry on skillet. For the scramble: either use a fork or you hands to shred to tofu, add to the bowl mixture to coat, then fry in the skillet. I am adding a picture of both for reference below!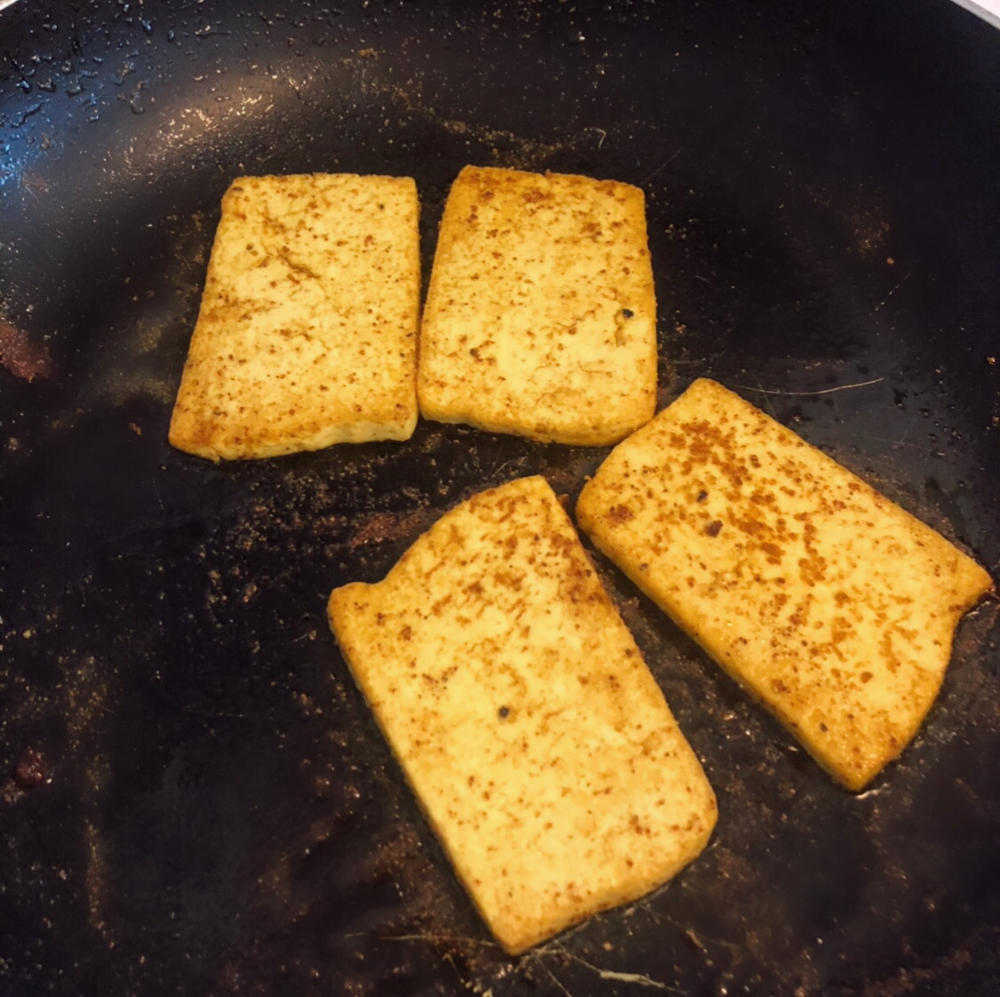 Step 3.
Now that your tofu egg and vegan sausage are cooked it is time to prepare the sandwich! Take out your bread slices, add follow your heart cheese slices (1.5 slices fits perfect on a normal break slice), and add layer of spinach. Then go ahead and add your veggie sausage and tofu egg (if you went with tofu slices, I use two per sandwich). Once your sandwich is assembled, I microwaved mine for about 30-45 seconds to melt the cheese a little!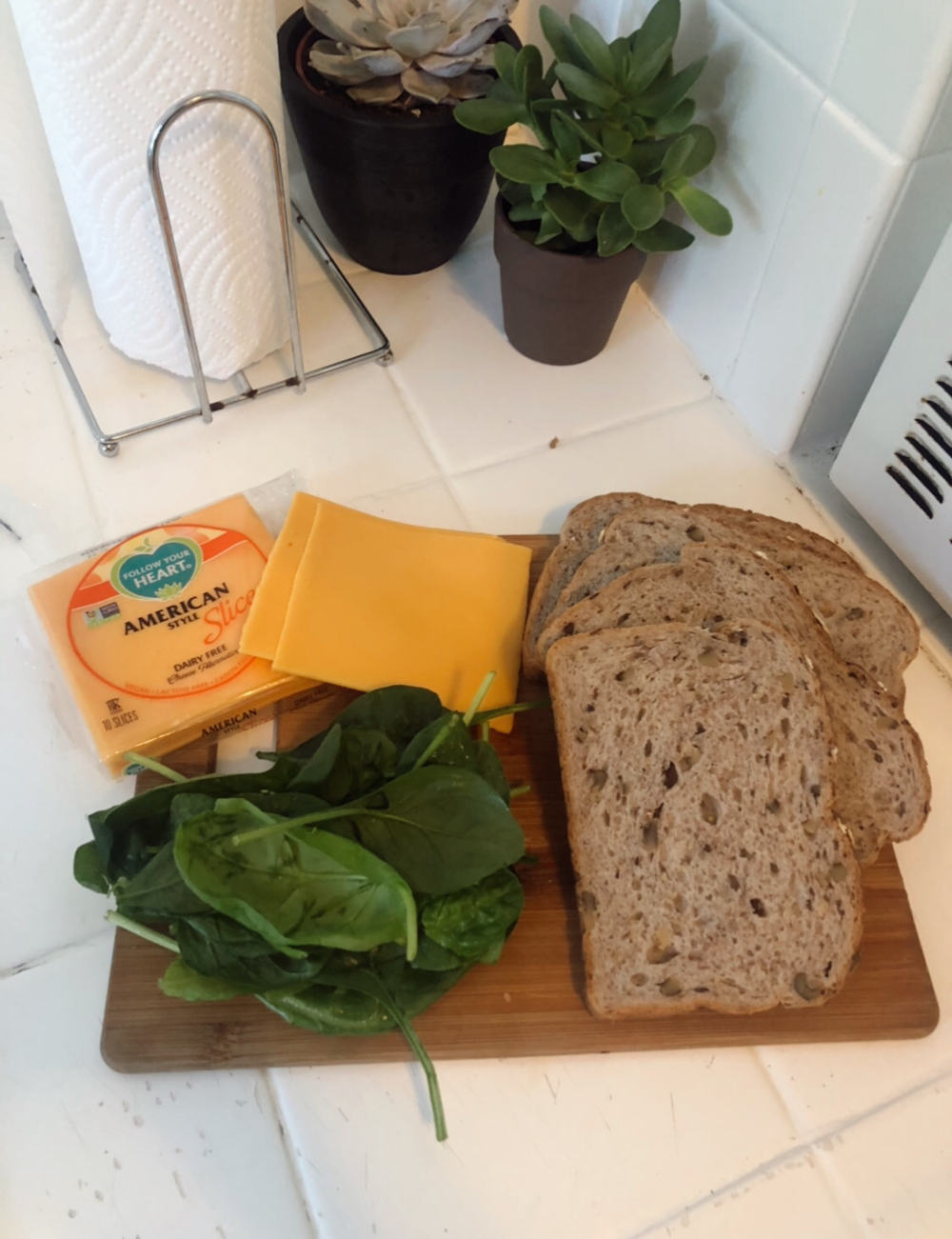 Wrap Up:
The "tofu" alone provides 10 grams of protein per serving, the veggie sausage has 7 grams per serving, and the spinach will add a source of calcium to the meal! This sandwich keeps you full all day as well! I catch myself not being hungry again until dinner after eating this.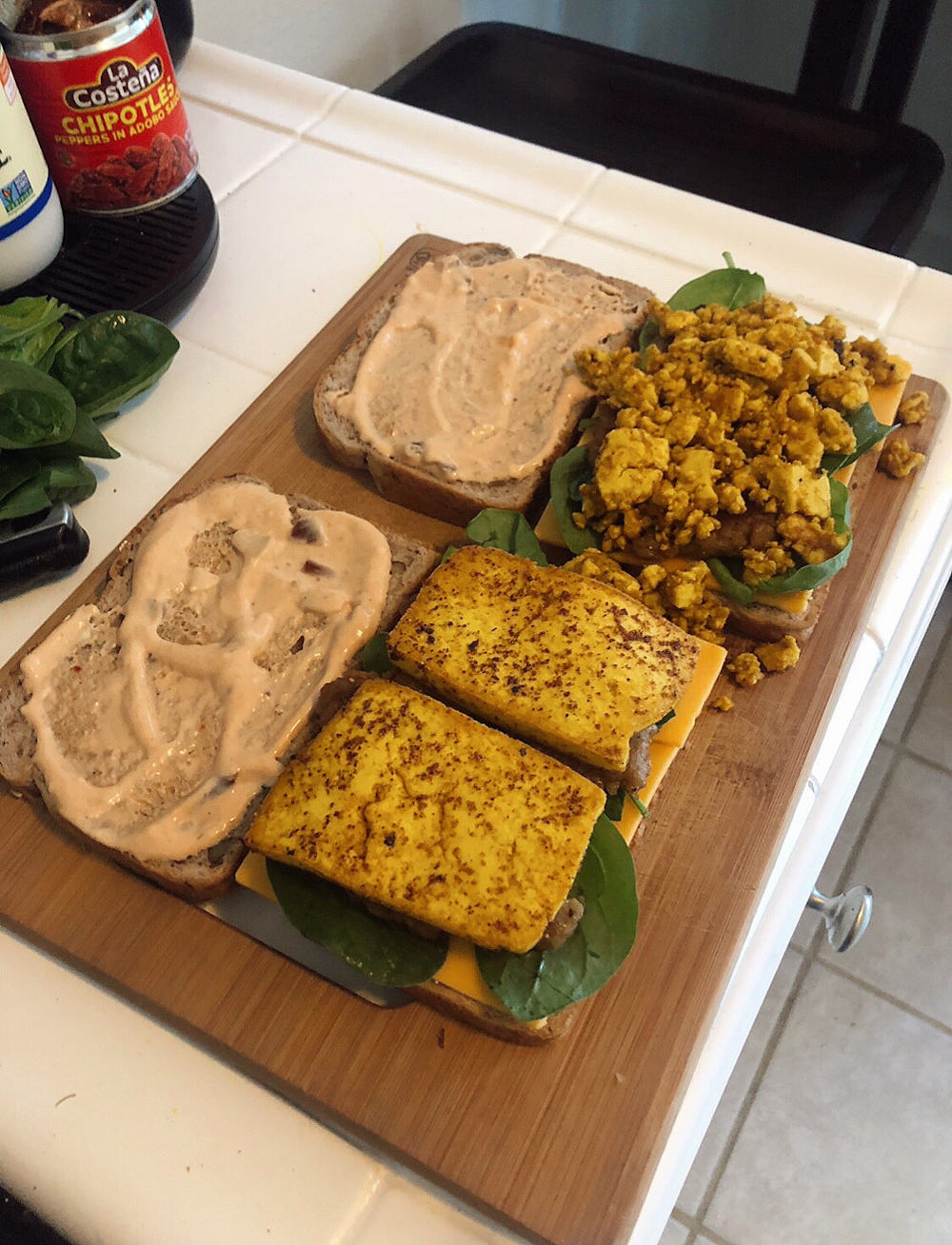 Try this vegan breakfast one weekend and help to save the lives of chickens and pigs just like some of the animals here like Firecraker, the biggest pig baby at Farm Animal Refuge!
Give this recipe a try and share your results with me on instagram by tagging me! @carlye_lavonne_14