The Farm Animal Refuge participates in off-site fundraisers, on the farm tours, farm yoga and our big open house event once a year. From yoga on the farm to our monthly tours, we give the community several opportunities to visit the farm and interact with the animals.
Our largest event is our open house. This year our open house had over 400 attendees and we were honored to have local vegan food vendors and other vegan organization's participate in our event.
Pig & Goat Yoga – Sunday, July 21st 2019
Please join us for an incredible pig and goat yoga class with Kia Stora! Kia is a Body Arts and Science educated ,California native. Kia has been teaching Pilates in between entrepreneurship for over 17 years. She completed her 200 hour Katonah influenced Yoga teacher training at Love Yoga LA last year and just completed an advanced 50 hour teacher training in Costa Rica this year which focused on body adjustments and pranayama breathing techniques. A patreon who continues to promote our sanctuary through her philanthropic promotion company Zenremedy, her class will be free for patreons of the sanctuary and all proceeds from the yogalates class will go directly to the sanctuary.
Please bring your own yoga mat, a towel and a reusable filled water bottle.
Buy Tickets
When: Sunday, July 21st 2019 Time: 10am – 12am (includes an hour of yoga with a meet and great of our residence after) Where: 33233 Shockey Truck Trail Campo, California 91906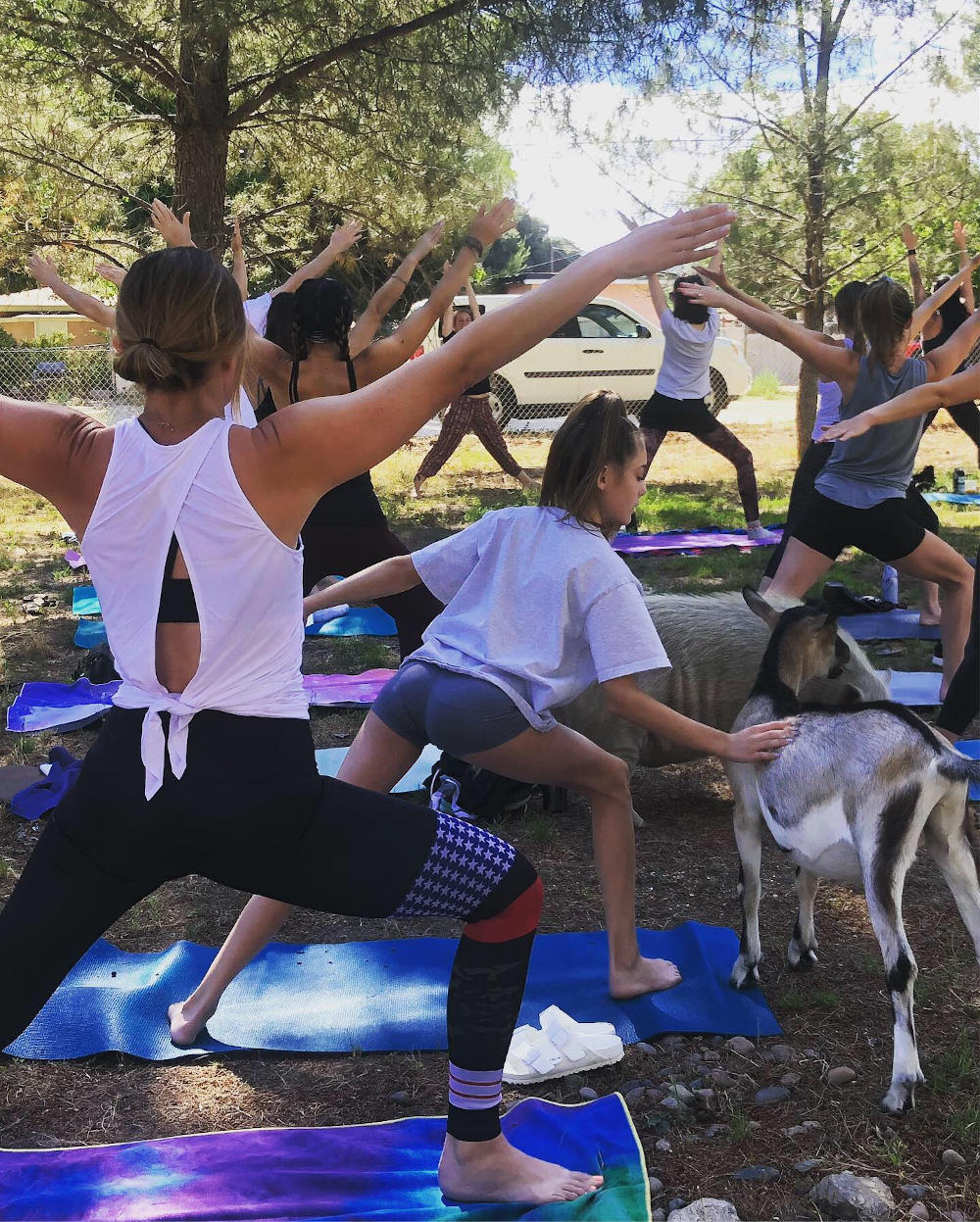 Plant-based Italian dinner – Sunday, July 28th 2019
Are you ready to enjoy a lovely evening paired with delicious Italian food, great company, and intimate conversations? Then please join us at Farm Animal Refuge for our first-ever sunset dinner! We will indulge your tastebuds with a five-course Italian feast, a meet and greet with our animal residents, and of course top the evening off with a breath taking sunset!
Your exceptional dinner will be prepared to please, including:
Focaccia | spread sun dried tomato garlic butter
Minestrone Soup | rich with vegetables
Cesar Salad | topped with garbanzo caesar dressing, cashew Parmesan crisp, heirloom tomatoes, and herb croutons
Bruschetta | toasted French baguette, herbed ricotta spread, sliced heirloom tomatoes, and basil balsamic reduction
Intermettzo | minted citrus Italian ice
Sietan Chicken Parmesan | coupled with crispy ravioli, tomato ragu, ratatouille
Tiramisu | flavored with cocoa
A colorful, fruit-filled Sangria will be served throughout the night to tantalize tastebuds and celebrate the inaugural Farm Animal Refuge Sunset Dinner. The event will begin at 4:00pm and end at 7:30pm. In order to keep our dinner intimate and safe for our rescued residence we are limiting ticket sale to 20 people. If you are interested in joining us, please RSVP by buying the ticket ASAP. As always, your tax deductible dinner donation will go directly to the love and care of our animal residents.
We look forward to enjoying this incredible evening with you!
Buy Tickets
When: Sunday, July 28th 2019 Time: 4pm-7:30pm Where: 33233 Shockey Truck Trail Campo, California 91906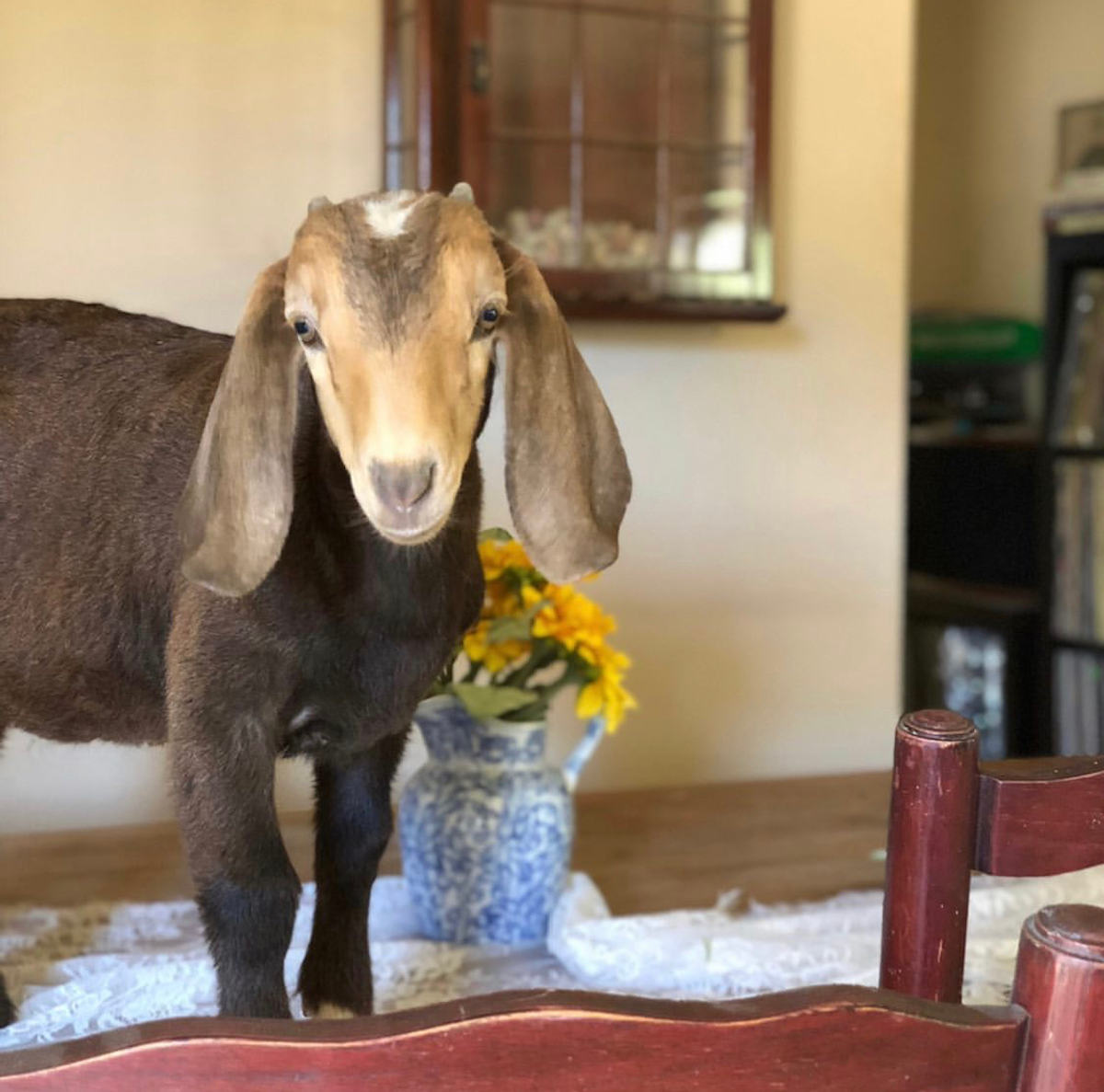 Open House – Saturday, May 11th 2019
Food, Activist & Lifestyle Booths By:
Farm Animal Refuge: Plant-based sausages, plant-based hot dogs, and vegan tacos
Get Fluffed Up: Hand spun vegan cotton candy
Vegan in San Diego: Local guide to all things vegan in San Diego
Happy Healing Vegan: Lifestyle Coaching
Anonymous for the Voiceless: An animal rights organization that specializes in street activism
Music by Dash Eye
When: Saturday, May 11th 2019 Time: 11am-3pm (animals will take a people break from 12:30-1:30pm) Where: 33233 Shockey Truck Trail Campo, California 91906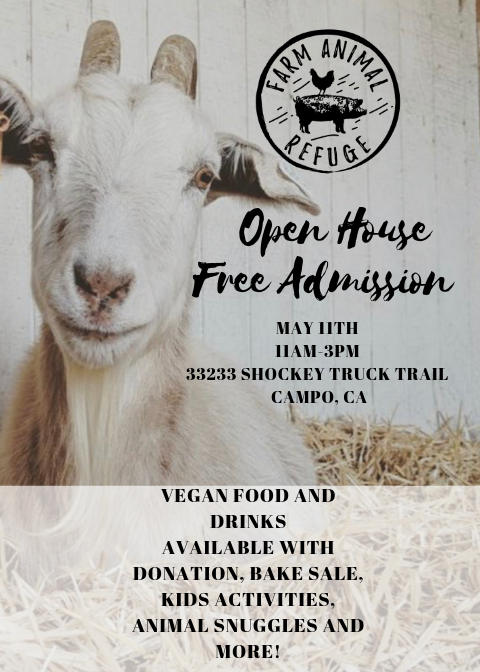 Check out some photos from our October, 6th 2018 Open House Event:
Below you will find some photos capturing the awesome memories created from our events: